Toronto real estate is in high demand, and pressure on existing housing supply is expected to continue mounting as people flock to the city in search of home. For the second year running, Toronto's population has been ranked as the fastest growing in all of North America. This is according to a new report by Ryerson University's Centre for Urban Research and Land Development (CUR).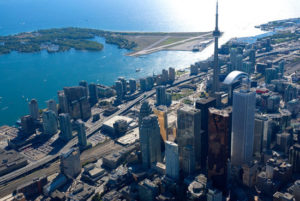 CUR examined population growth between July 2018 and July 2019, and found that Metro Toronto grew by 127,575 people, coming out ahead of Dallas-Fort Worth Arlington, with a population increase of 117,380 people. This puts Toronto at the top of the list with the fastest-growing metropolitan area in all of Canada and the U.S.
Last year, CUR reported that Toronto was the second-fastest growing metro area in all of North America in 2018, second only to Dallas-Fort Worth Arlington. Last year's report indicates the city of Toronto's population grew in excess of 77,435 people between July 2017 and July 2018. The continued population growth through 2019 is impressive, to say the least.
What does this mean for the Toronto real estate market? The city has been in a consistent seller's market for the better part of this last decade, with the Greater Toronto Area characterized by low inventory, growing housing demand, rising real estate prices and bidding wars.
The Toronto housing market kicked off 2020 primed for a busy year ahead, with anticipated prices to increase 6% by the end of 2020, with the existing housing shortage and rising prices continuing to be a major obstacle for homebuyers in the region. With Toronto's rate of new construction falling below the mounting demands of Toronto's quickly growing population, pressure on the market was expected to continue with rising prices in the 2020 forecast.
Toronto real estate was indeed showing signs of another active spring market. Interest rates were down and home buyers were active. This continued to be the case until about mid-March, when the coronavirus pandemic hit the region and social distancing measures took effect. What ensued was an economic shut-down and rising unemployment rate, putting pause to real estate listings and home sales – "pause" being the operative word.
Interestingly, the decline is home sales was almost exactly proportional to the decline in new listings hitting the market, which meant market balance in the area had not changed. Much to the chagrin of home buyers, Toronto was still decidedly a seller's market.
Despite the pandemic, Toronto has low housing inventory and multiple-offer scenarios, which has continued to put pressure on average price in the city. According to the latest data from the Toronto Regional Real Estate Board (TRREB), 4,606 homes changed hands through TRREB's MLS System in May 2020 ­– a 53.7% decline year over year, but up 55.2% compared to April 2020, which marked the height of the pandemic. Meanwhile, average price was up 3% in May 2020, reaching $863,599, compared to $838,248 in May 2019.
If you want to buy or sell a luxury home in Toronto, contact Casey Ragan at 416.486.5588 or by email at [email protected]
Casey Ragan
"Toronto's Luxury Real Estate Authority"